Half Moon Bay Coastside History Museum is Now Underway!
The Half Moon Bay History Association has opened a mini-museum highlighting Coastside history in the historic jail in downtown Half Moon Bay. The jail museum is staffed by trained docents and is open weekends from 10 a.m. to 4 p.m. Weekday group tours can be arranged by contacting HMBHAdocents@gmail.com.
A project to convert the Johnston Barn, located just behind the jail building, to a larger museum space is underway. Donate now to support our efforts to celebrate Coastside legacies through these museums and our other programs.
Our docent training program equips volunteers to interpret the many turning points that have made the Coastside what it is today:
the native Ohlone who inhabited villages in each watershed for 12,000 years
the Gaspar de Portolá Expedition who mapped the area for Spain in 1769
the Spanish colonists who followed Juan Bautista de Anza, dotting the coast with missions and presidios
Mexican land grants and secularization that released mission lands for agriculture
the Gold Rush
whaling and other maritime activities
the Ocean Shore Railroad
Prohibition
World War II
the rise of Silicon Valley and the Information Age
We're continually seeking volunteer donors. To learn more, contact HMBHAdocents@gmail.com.
HMBHA President Dave Cresson (center, with document) signed a historic agreement with the City of Half Moon Bay to develop the jail building and the Johnston Barn as a history museum. Surrounding supporters (counter-clockwise from Dave): June Baxter, Paul McReynolds, Sheila Cresson, Chris Beffa, Clyde Beffa, Bobbie Dunham, Dan Miller, David Olson, Tina Solomon, Julie Barrow, JoAnn Semones, Lau Hodges, Barbara Dye, Robin Kirby, Mary Ruddy, Katy Baker, Sally Benson.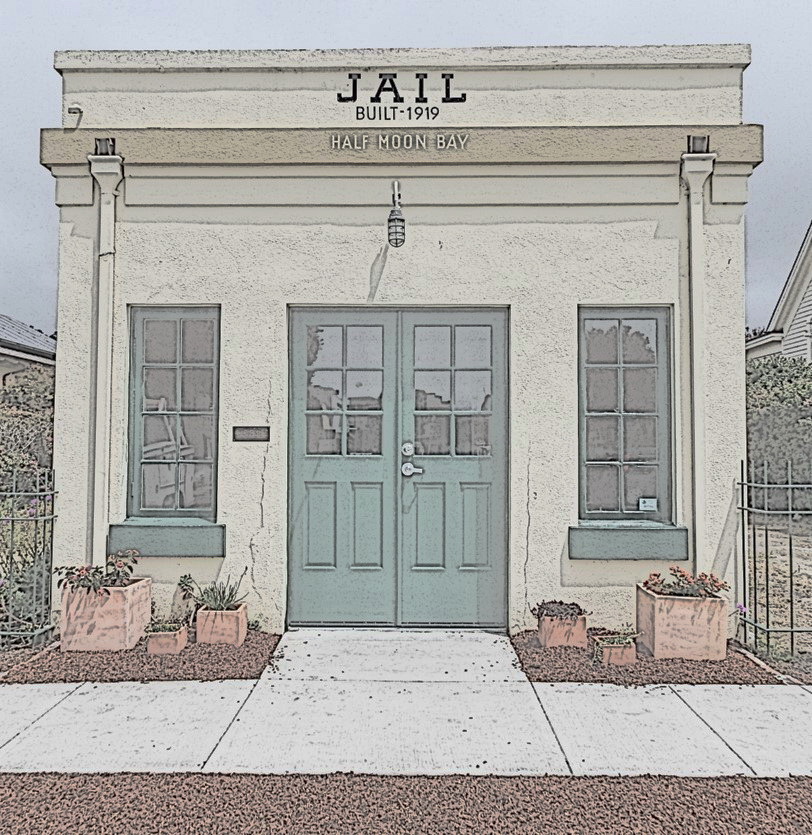 History Museum Location
505 Johnston Street, Half Moon Bay, CA
(The jail is visible from the street and the barn is tucked behind to the southeast)
Hours
The jail museum is open weekends, 10 a.m. to 4 p.m.
Group tours may be arranged by contacting HMBHAdocents@gmail.com.

History Museum, 505 Johnston St.
(near the corner of Kelly Ave. & Johnston St. in downtown Half Moon Bay)